This page is the brochure for your selected program. You can view the provided information for this program on this page and click on the available buttons for additional options.
IEX J-Term 2020: The City Air Will Set You Free: Queer Urban Communities and Social Justice in Berlin and Amsterdam
Amsterdam, Netherlands;
Berlin, Germany
(Outgoing Program)
Featured:
Program Terms:

| | | |
| --- | --- | --- |
| Program Terms: | January Interim | |
Dates / Deadlines: - unrelated header
Dates / Deadlines:
There are currently no active application cycles for this program.
Fact Sheet: - unrelated header
Fact Sheet:
Program Description:
Program Description: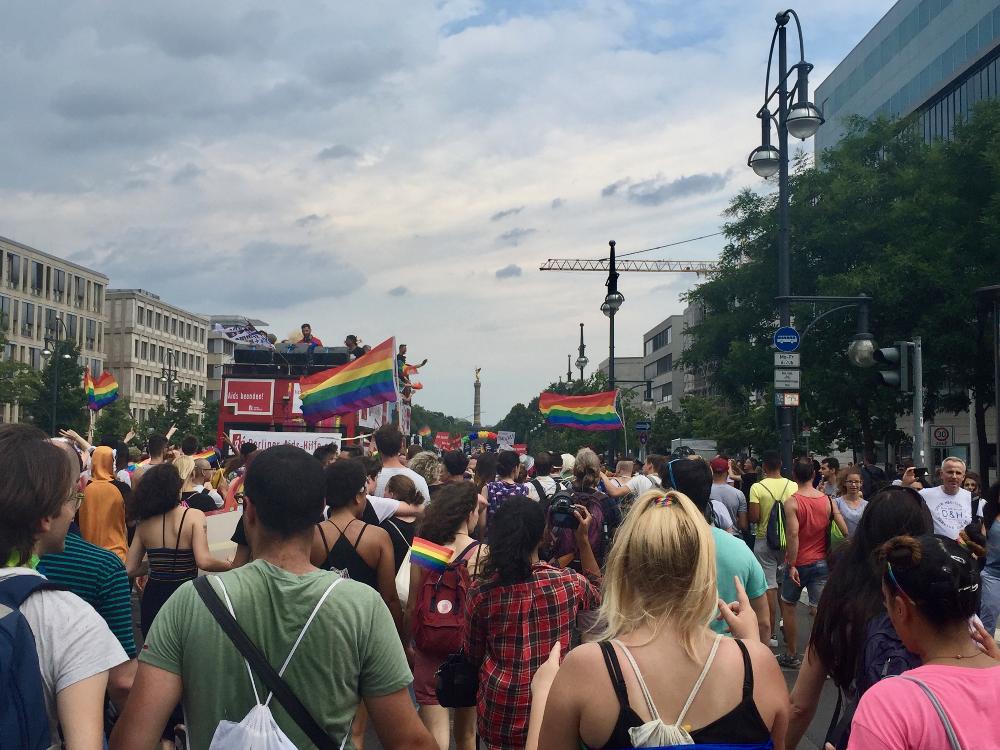 Highlights
In this course, you will...
Fulfill one of the two IEX (Interim Experience/J-Term) required credits for all Gustavus students.
Be introduced to and/or develop your knowledge on some of the main gender and sexuality topics and debates, e.g. gender vs. sex, the intersection of gender/sexuality with other categories (specifically religion, race, class, citizenship status), the construction of queer history and memory, the (contested) shaping of "LGBTQQIA" as an acronym, the evolution of queer spaces...
Read current and historical texts on these topics, mostly prior to the J-term itself.
Share your findings during the first four days of the J-term (in online meetings).
Spend 7 days (not counting travel) in Berlin, birthplace of homosexuality as a modern identity. While keeping our focus on the history of queer communities, we will also visit some of the city highlights, such as the Berlin Wall Memorial, several monuments to all victims of the Nazi regime, and the Brandenburg Gate.
Spend 7 days (not counting travel), in Amsterdam, "the world's most liberal city," according to Russell Shorto. As well as discussing the current issues faced by queer individuals and those closest to the city's queer communities, we will connect our encounters both with history (with visits such as the Anne Frank House), and with current issues (e.g. the influx of refugees in 21st-century Europe).
Overview
This course is designed for students who wish to explore how LGBTQI/queer communities are working towards achieving social justice for all through the prism of two of the most significant queer hubs in history: Berlin and Amsterdam. The issues that LGBTQI people face to achieve wellness and happiness intersect with those of many other minority groups. Just like such groups, queer individuals usually find empowerment by building communities, oftentimes based off of urban centers. Already in the Middle Ages, the German saying "Stadtluft macht frei" ("the city air will set you free"), tagline of this course, conveyed the idea that people (specifically, indentured workers) could find freedom in cities. Centuries later, cities have become a hub of queer life around the world.
Over the course of three weeks, we will first introduce some of the main concepts and debates in the fields of gender and sexuality by sharing readings over an online platform—the equivalent of an on-campus preparation seminar. We will then meet in Berlin, where we will explore the history and heritage of local queer communities from the 19th century on—it was in this part of the world where the work homosexuality first made appearance, and was conceptualized as an identity. After our stay in the German capital, we will travel to Amsterdam, where we will have the chance to examine how the city, along with the Netherlands as a whole, has embraced policies that support LGBTQI communities. We will also take a critical approach by discussing areas of improvement, as well as the conflict between public policy aimed at improving individual lives and community initiatives. As part of the course, students will engage with experts and activists on the topics of the course, complete journals, participate in on-site group reflections, and complete four explorations: "scavenger hunts" weaving both archival material and the city landscape, in preparation for a final essay.
Locations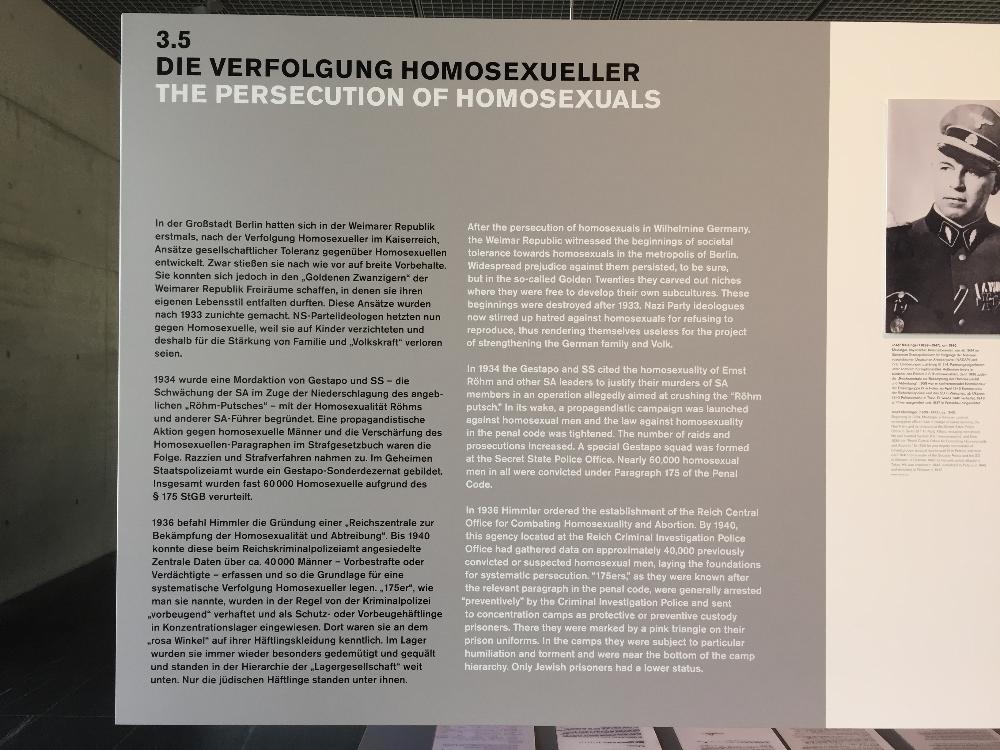 Berlin
is one of Europe's largest cities, and the capital of the largest country in the European Union. However, for many centuries it was only the seat of power of one of Germany's predecessor states, Prussia, and it was better known as a distant garrison town. Already by the late 19th-century, (soon to be) gay men, lesbian women and crossdressers had their own meeting places in the city, some more public, others more secluded, despite the fact that the German Empire legislation did not allow sexual activity between men. After World War I, queer life exploded during the Weimar Republic period (1919-1933), when travelers such as British writer Christopher Isherwood would flock to the city to experience a freedom they could not find at home. All of it came to a screeching halt with the rise of the Nazi Party to power in 1933. Gay men, lesbian women and transgender people became targets of the regime's program of extermination. Yet, after 1945, Berliners were quick to go to "normal." In 1952, Isherwood describes how they were chatting about "business and sport, the new car, the new apartment, the new lover. 'My god,' I exclaimed to one of my acquaintances..., 'one would think you lived in Minneapolis'"—this was West Berlin, of course. The Berlin Wall, erected in 1961 and demolished in 1989, divided families and lovers of all stripes. West Berlin became an isolated radical beacon for all West Germans (and beyond: think David Bowie): its residents were exempt from military service, as the city was not part of the Federal Republic of Germany. But queer gathering spots also appeared in East Berlin, despite the German Democratic Republic's rigid social control. In the 21st-century, against the rising tides of gentrification in the city and populism in the surrounding länder (states), Berlin remains a hub for many queer people and radical individuals from across the globe.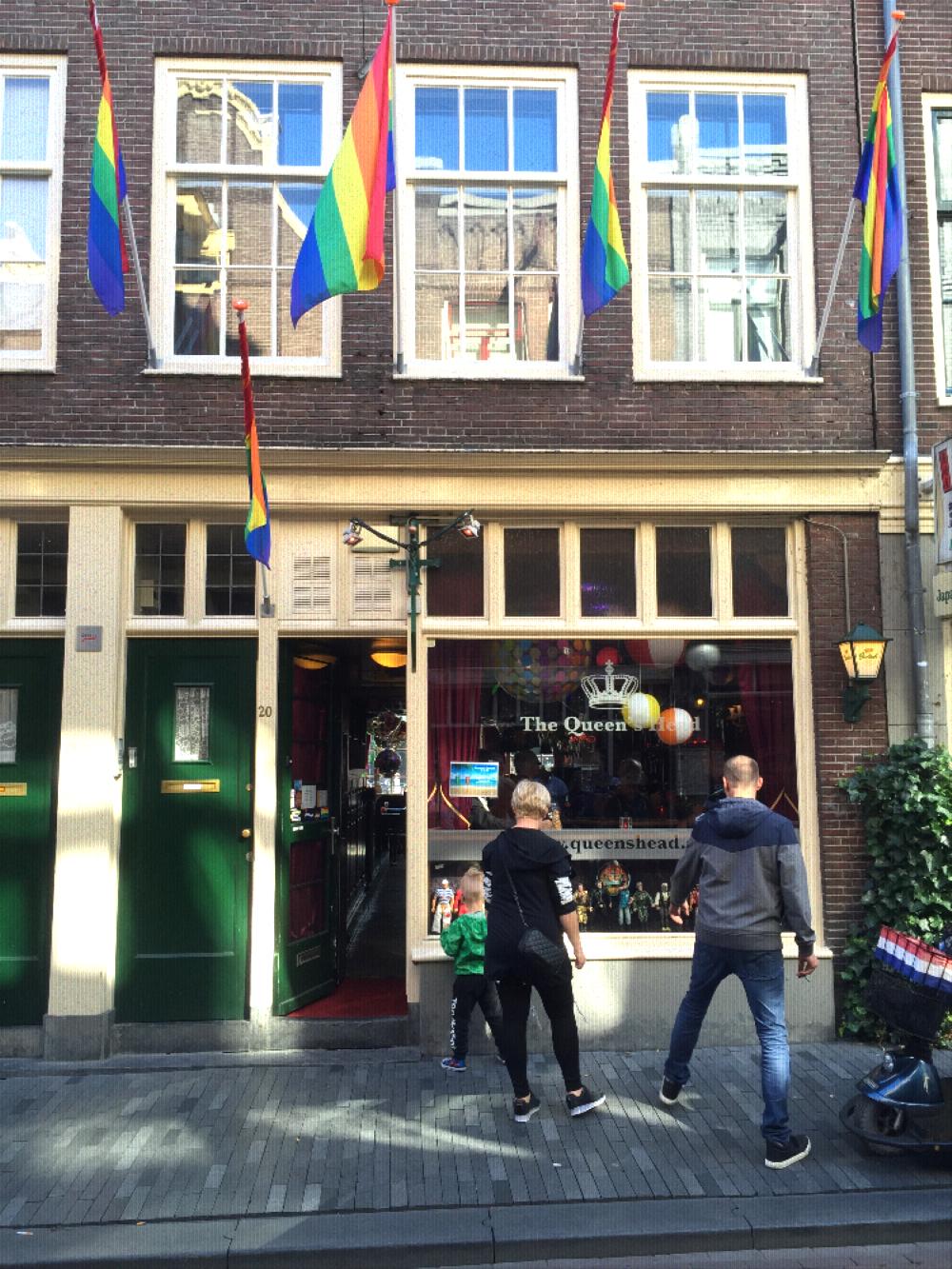 Amsterdam
is the birthplace of modern capitalism (New York City was once New Amsterdam), and prides itself in its liberal politics on issues such as sexuality, recreational drug use, and multiculturalism. The decades after World War II saw the Netherlands slowly embrace progressive politics in all of these accounts, and Amsterdam would become the poster child of this process. And yet, "the world's most liberal city" sees a growing tension between its
alochtoon
(i.e. not of Dutch origin) population and queer communities; it receives an endless stream of tourists that often demand that the city culture conform to their values and needs (for the record, we will visit during the lowest season—this is not tourism); the city is often seen as an alien body within a country that is becoming more conservative. Progressive policies, such as mandatory sex education in public schools, regulation of sex work (in Amsterdam), or advanced HIV prevention strategies, are not a given—that is where Amsterdam's queer communities are at the front lines. Or are they?
Travel
During our two weeks, we will be staying in central locations in both Berlin and Amsterdam. While the program schedule is fairly compact, we will be able to make the most out of our free time, and to do many of our visits on foot. You are also strongly encouraged to arrive earlier/leave later, given that both cities are more accessible in January than in any other time of the year, due to increased lodging availability, lower flight prices, etc. MSP happens to have direct flights to Amsterdam, which will help you budget.
Please note that we will not travel as a group when arriving into Berlin and/or departing from Amsterdam.
Academic Calendar
Expected dates
On-campus orientation: TBD Fall 2019
On-campus course: Monday, January 6, 2020 (online)
Study away arrival date: Sunday, January 12, 2020
Study away return date: Tuesday, January 28, 2020
Faculty Leader(s)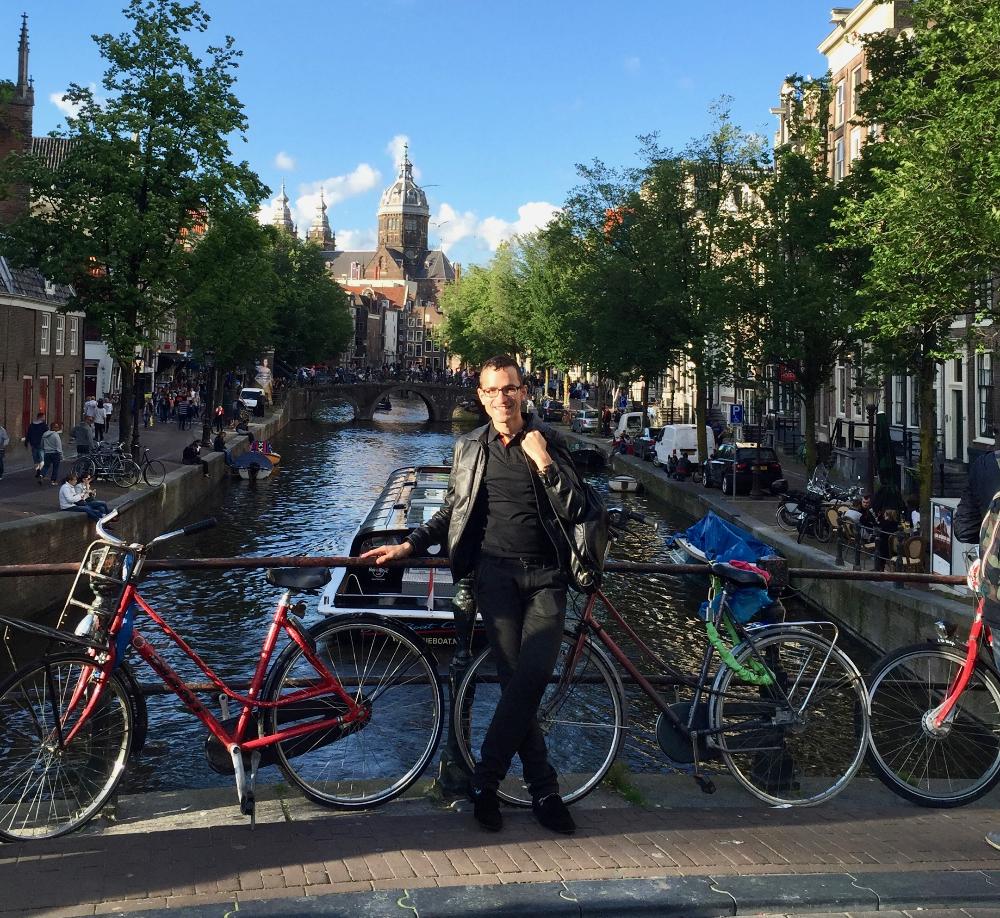 Darío Sánchez González
is Assistant Professor of Spanish and Faculty Affiliate in Gender, Women, and Sexuality Studies. His research focuses on the intersection of sexual and national identities in Spain and Latin America, specifically through their representation in film and literature. As a gay men with an activist streak, Berlin and Amsterdam have always been places that carry a lot of meaning to him, cities where queer lives thrive, and queer futures are made present. He has also participated in the 2016 CIEE Faculty Development Seminar "Charting a Queer Future: Cities, Movement, People," which was run in Amsterdam, and he has traveled and read extensively in/on both locations.
Accommodation
We will stay at the CIEE Global Institute in Berlin, a new facility in Kreuzberg (a very centrally located district) with comfortable dorm-like settings (check their website here:
https://cieeberlin.org/
). At Amsterdam, we will use the CIEE facilities from classes/lectures, but we will stay at a nearby hostel, also centrally located. When possible, we will be at locations with a kitchen. The program fee will include 10 dinners and 4 lunches, and you will also have easy access to many cheap eateries both in Berlin in Amsterdam.
Program Costs
The program fee will cover lodging, transportation in Europe, an average of two meals per day, instruction and guides, entrance fees, activities, excursion and accident and sickness supplemental insurance. We estimate the final fee to be between $4,600 and $5,100 per student depending on final arrangements and the total number of students enrolled. Students will be responsible for the cost of round-trip airfare to Europe, one meal per day, and personal expenses. CICE can offer advice about air tickets and will share a suggested itinerary for students who would like to fly with other students on the program.
Eligibility
This program is open to all Gustavus students who are eligible to apply. reas of interest include: History, GWSS, Soc/Anthro, Geography, Social Work, Education, and social justice.
Application Deadline
Students must complete the online application by May 1, 2019.
Entry visas and passports
US citizens may enter the Schengen visa zone without a visa for up to 90 days. All students who are not U.S. citizens should contact Bryan Messerly to check about possible additional visa needs. All program participants must have a passport that is valid through at least July 31, 2020, by the start of Fall 2019 semester.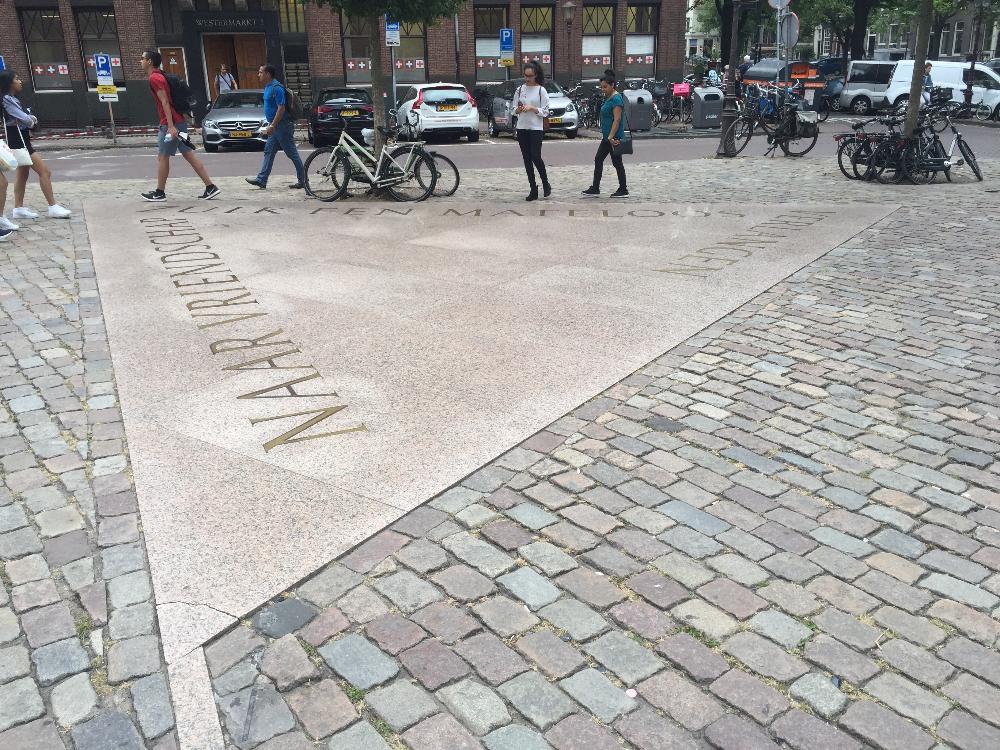 The information in this online brochure is subject to change. Please contact CICE with questions.