This page is the brochure for your selected program. You can view the provided information for this program on this page and click on the available buttons for additional options.
Uppsala, Sweden
(Exchange Program) (Outgoing Program)
Featured:
Program Terms:
Program Terms:
Academic Year,
Fall,
Spring

Homepage:
Click to visit
Restrictions:
Gustavus applicants only
Budget Sheets
Fall,
Spring

Dates / Deadlines: - unrelated header
Dates / Deadlines:
There are currently no active application cycles for this program.
Fact Sheet: - unrelated header
Fact Sheet:
#i18n(14)# parameter/value output

Glossary entry for program parameter 10168

Program Partner:
Gustavus Adolphus College

Glossary entry for program parameter 10208

Program Term(s):
Semester only

Glossary entry for program parameter 10164

Minimum Class Standing:
Sophomore

Glossary entry for program parameter 10167

Minimum GPA:
3.00

Glossary entry for program parameter 10206

Previous Language Study Req?:
No

Glossary entry for program parameter 10165

Language of Instruction:
English, Swedish

Glossary entry for program parameter 10166

Language courses offered:
Swedish

Glossary entry for program parameter 11139

Meet Language Reqt in One Semester?:
No

Glossary entry for program parameter 10169

Housing Options:
Residence Hall

Glossary entry for program parameter 10171

Areas of Study:
African Studies, Anthropology, Biochemistry, Biology, Culture, Earth Science, Economics, English, Ethnography, Eurasian Studies, Gender Studies, Genocide Studies, Government, Holocaust Studies, Information Sciences, Information Technology, Linguistics, Mathematics, Multiculturalism, Peace, Justice and Conflict Studies, Physics, Psychology, Religion/Theology, Sciences, Sustainability, Sustainable Development, Swedish
Program Design:
Direct Enroll, Exchange
Program Description:
Program Description:
**Please note that applications for the Uppsala University Exchange Program are due earlier than other study away applications: February 1 for both Fall and Spring programs.

Uppsala University Exchange Program
Exchange Model.
Note that this is an exchange program. In the exchange model, participating Gustavus students enroll directly in courses offered by a partner college or university located abroad or elsewhere in the US. In these programs, there is less direct support for participating students when compared to programs run by Gustavus or by partner organizations with US staff members and offices. The model requires some extra effort on the student's part, to navigate an unfamiliar institution and its systems, but the rewards are demonstrably greater (research shows this), as students who complete such programs experience the most immersive form of study away.
Overview.
The Uppsala exchange program provides an opportunity for Gsutavus students to spend one semester in one of Europe's leading universities, the oldest institution of higher education in Scandinavia. Uppsala is a world-renowned institution with highly competitive admissions, so the exchange program also tends to be competitive for interested Gustavus students.
All applications (for both semesters) are screened at the deadline of February 1 each year
, and then applicants are notified of the outcome (in time for those who are not selected to switch into a second-choice program). Uppsala courses are rigorous, so Gustavus students should expect to find the work challenging. The city of Uppsala is less than an hour's travel from Stockholm, the capital, and is a very livable city in its own right.
Placements Available.
for the 2016-17 academic year, there are four, one-semester placements open at Uppsala for Gustavus students. We anticipate that there will be competition for these placements. Because of the limited placements available, academic-year enrollment is not offered in 2016-17.
Locations.
The main campus is located in Uppsala. Uppsala is Sweden's fourth largest city and is located 70 km north of Stockholm, in the province of Uppland. There are over 150 castles in the vicinity, several museums in Uppsala (including an art museum housed in Uppsala Castle), and hiking trails for enjoying the Swedish landscape. Uppsala is a cosmopolitan community, and the university provides a stimulating urban setting for the serious student who enjoys intellectually challenging classes. Participating students will enjoy a wonderful student-life environment in Uppsala, including ample venues for live music, good restaurants, two arts cinemas, an array of opportunities for indoor and outdoor fitness and recreation, and much more. There is also frequent bus and train service to Stockholm and other parts of Sweden.
There is a second campus in Visby, on the island of Gotland (located between mainland Sweden and Finland). This campus offers a very limited selection of courses, and the smalltown environment affords many fewer opportunities for student life. Generally speaking, most Gustavus participants will want to study in Uppsala.
The University.
Studying at Uppsala University is an exciting opportunity for Gustavus students to be fully integrated into the academic, social, and residential life of Uppsala. It is the oldest Nordic university, founded in 1477. There are more than forty programs in three disciplines (we might call them "colleges" at a US university): Arts and Social Sciences, Medicine and Pharmacy, and Science and Technology. The student population is around 38,000 and growing. The goal of the university is to maintain strong academic programs and diversity while defending its leading position in research and offering elite academic programs. An international officer of the university oversees orientation and other matters that may come up during the exchange student's stay.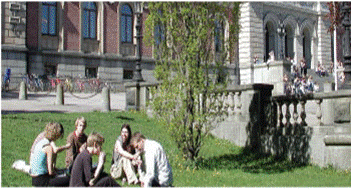 Academics.
Uppsala University offers a wide range of academic programs with instruction in English, as well as a full selection of courses taught in Swedish. No previous language experience is required, but students with two years of college-level Swedish or the equivalent, and a GPA of 3.5 in the Swedish language courses, may take one or more courses taught in Swedish.
Swedish language courses.
An intensive (introductory) course in Swedish is offered in August before the academic year begins. A semester-long Swedish course is strongly suggested if an exchange student is taking only courses taught in English (both to fill out a full semester schedule and to augment the intercultural experience).
Course levels at Uppsala
. While this program is open to sophomores, sophomore students will most likely have to choose courses at level A. Level B courses often require that the student has studied the subject during one semester's full-time studies (e.g., 4 GAC units), and levels C and D are even more advanced and may not be open to U.S. undergraduate students at all.
Modular calendar.
Uppsala University uses a modular academic calendar, meaning that course modules do not meet for the entire semester. For a degree-seeking student at Uppsala, these modules are "packaged" nicely so that they have one or two modules at a time, and their semester's program of courses (they sign up for them as a package for the semester) offer them their full course load. For visiting exchange students, though, the process often involves picking modules out of "packages," rather than signing up for the whole package. Thus, you will need to pay attention to the weeks in which each of your selected modules meets (courses are scheduled by week numbers, using the week numbers within the calendar year, so that Week 1 is the first full week in January). You must also pay attention to the full-time percentage of each module. Some modules are 100% for four or five weeks, meaning that you would only take that one course during that module. Others might be offered at 50%, in which case you would need two such courses during that modular time period. The one big exception is that the Swedish language courses usually meet all semester, and you may add one of those over and above your 100% load during any module within the semester.
Overall academic calendar.
The fall semester begins in September, with a required orientation that starts in late August, and it ends in mid-January. Participants need to remain the entire semester in order to make a full semester's progress at Gustavus. However, participants who take the early Swedish 101 course in August (starts around 1 August) may then elect not to take a December-to-January module and could be finished by early December. The spring semester runs mid-January into May or June (with a large break around Easter). It also has a required orientation period for newly arriving students.
Courses taught in English.
Uppsala University offers many courses in English – but not all courses, so interested students are strongly encouraged to check the most current academic schedule here:
http://www.uu.se/en/admissions/exchange/courses/list/#filter
Note that continuing courses (the ones that are not one-time-only seminars) tend to be offered in the same modular schedule each academic year. Note, too, that you can filter your search by multiple criteria, including by location (either of the two campuses), fields of study, weeks/module, and other criteria. As with any multiple-option search, be careful to reset your criteria, lest you rule out interesting courses.
Accommodation and Meals.
The University's international office provides instructions for applying for student housing for all exchange students, but university student housing in Sweden is operated separately from the universities (by a public agency).
Student housing is very competitive
, so apply as early as you can once the instructions are given. You will be able to choose from a number of options, ranging from low to high cost (and low to high quality). Hotel Uppsala is a hostel-type facility mainly used by students from less-developed countries, so it is not recommended for U.S. students. In most of the available facilities, students enjoy single study-bedrooms that either open onto a floor of approximately twelve such rooms, all sharing one large kitchen and lounge/living room, or else are located in a small flat (apartment) of two or three single rooms that share a smaller kitchen/lounge and one bathroom (the individual study-bedrooms have separate key entry in either case). You will pay your rent monthly directly to the housing authority. There are no dining halls, though there are inexpensive options for meals located inside of or nearby most of the university buildings, and you will have use of a kitchen facility in your place of residence. Also,
fika
(afternoon light meals of sandwiches, pastries, coffee, etc.) are on offer in all of the Student Nations (see below).
Student Nations.
Uppsala is an old enough university to have some very old traditions still in place. There are fourteen student nations at Uppsala, each one corresponding to one (or two) of the original "nations" that composed the medieval kingdom of Sweden. Swedish students automatically belong to the nation that corresponds to their home address, but visiting international students are allowed to choose which nation they will be affiliated with. You must join one of them, as they administer student ID cards, library access, and certain other administrative functions. Each nation has its own facility, mostly a small to medium-sized building somewhere in the center of the city. And each has a different character: some offer one or more sports teams to join or other recreational activities, some have their own musical groups (orchestras, choirs, etc.), some plan an array of parties or cultural events, etc. Almost all of them offer
fika
daily. A few even have student residence rooms, though it is not generally advisable to live in a building designed as a social space. You may be able to make use of the open study/fika/lounge time at all of the nations, but you must choose one with which to affiliate. Once you are accepted by Uppsala University, you will receive more information about the nations.
Application.
The Gustavus Adolphus College application deadline is February 1st for the following academic year (either semester). The application fee is $70. Other required items include: online questionnaires and signature documents, two recommendations, and two short essays (all found in the online application).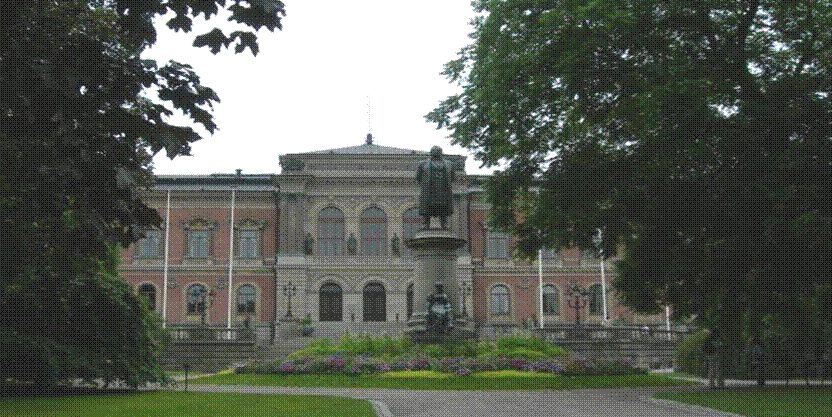 Costs.
Participating students pay their Gustavus tuition as normal. Room and board are paid for directly by the student in Uppsala. Most forms of financial aid may be applied. Cost of transportation is the student's responsibility. A $500 deposit is due upon acceptance, and this deposit applies to the semester's Gustavus Adolphus College tuition (the balance will be due on the normal schedule at Gustavus).
Uppsala University Website:
http://www.uu.se//en